Welcome!

Welcome to the web site of the La Puerta de Oro–San Francisco Chapter, National Society Daughters of the American Revolution (NSDAR) of San Francisco, California.  Please visit our site's topical pages for chapter-related information.  We hope you will return regularly for updates, or contact us about membership, activities, and events.
About DAR
The National Society Daughters of the American Revolution (NSDAR or DAR), founded in 1890 and headquartered in Washington, D.C., is a non-profit, non-political, volunteer women's service organization comprising 3,000 chapters and over 175,000 members. On October 11, 1890, eighteen women officially organized the NSDAR for historic, educational, and patriotic purposes. Since that day, more than 900,000 women have joined, representing chapters in fifty states and many countries around the world.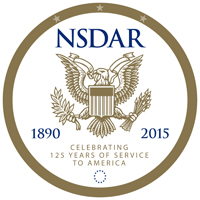 The DAR is dedicated to promoting patriotism, preserving American history and securing America's future through better education for children. DAR members volunteer millions of service hours annually in their local communities, including supporting active duty military personnel and assisting veteran patients, awarding thousands of dollars in scholarships and financial aid each year to students, and supporting schools for underserved children with annual donations exceeding one million dollars.
As one of the most inclusive genealogical societies in the country, DAR boasts over 175,000 members in 3,000 chapters across the United States and internationally. Any woman of eighteen years or older — regardless of race, religion, or ethnic background — who can prove lineal descent from a patriot of the American Revolution, is eligible for membership.
NSDAR is exempt from federal income taxes under the provisions of Section 501(c)(3) of the Internal Revenue Code, and receives no government funding.
About our Chapter

The La Puerta de Oro, San Francisco, Sequoia, and California chapters have merged into one great chapter, now known as the La Puerta de Oro–San Francisco Chapter.  The Sequoia Chapter was the first chapter organized in the state of California in 1891.  It has been with pride and dedication that we have come together to work for the National Society of the Daughters of the American Revolution.  As other Daughters have before us, we strive to continue to achieve our Society's goals.